New York to Reykjavik
aboard the Radisson Seven Seas Navigator
Sailed Wednesday 4 August and disembarked Sunday 15 August 2004
Each day featured a palate colors or white (mist / fog / ice), shades of grays (overcast skies / rocks), blues (clear skies / clear waters) and greens ( mossy rocks / lush fields ). Our itinerary took us along the New England coast using the Cape Cod Canel as a shortcut for heading to our first port of call, Bar Harbor Maine. From there we went to Halifax Nova Scotia, Saint-Pierre et Miquelon (the only part of France left in North America), St. John's Newfoundland, L'Anse aux Meadows on the northern peninsula of Newfoundland, then crossing the Labradour Sea, Qaqortoq Greenland, the crossing the Straits of Denmark, and finally Reykjavik Iceland.
| | |
| --- | --- |
| Prompt departure at 5pm from Pier 88 at New York's Passenger Ship Terminal | Passing Lower Manhattan, the first new bulding of the World Trade Center complex is rising (orange construction barriers wrapping the tower floors). This will be No. 7 WTC. The building in the foreground are part of the World Finanical Center, and the tower in the background is the famed Woolworth Building - once the world's tallest. |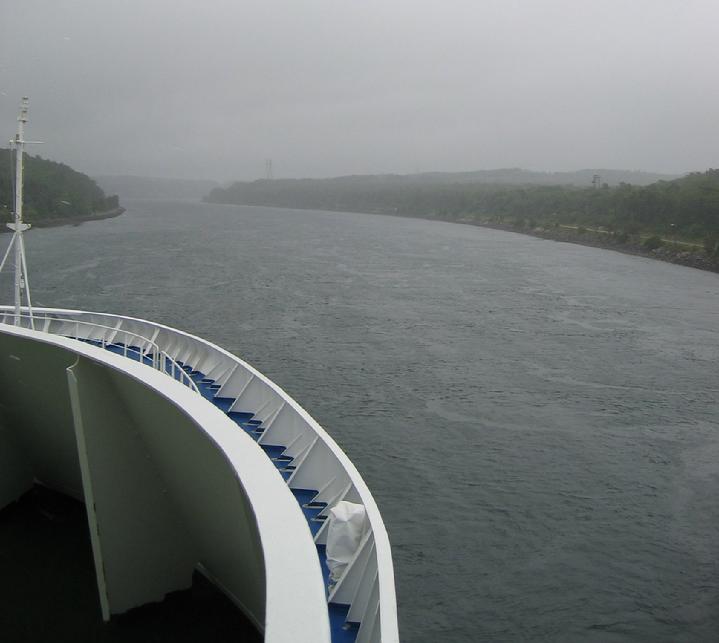 Day One was spent at sea. Here, a morning transit of the 7-mile long Cape Cod Canal in the rain and fog. Photo was taken from our cabin balconey which wrapped around overlooking the bow (forward) and to starboard (right side) for fabulous views.
| | |
| --- | --- |
| A spectacular view south from atop Bar Harbor's Cadillac Mountain. | The M/S Seven Seas Navigator resting at anchor. |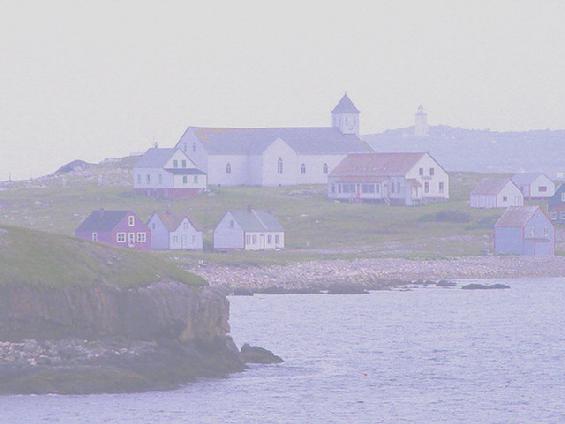 A bit of fog waiting to burn off with the morning sun. Our first view of the French territory of Saint-Pierre et Miquelon. These building are the core part of a once abondoned fishing community on the separate island of Ile aux Marins. Now many of the few remaining small houses are used as summer residences -- as the only access to the island is by water, there are no stores on the island, and all power is by either generator or solar.
| | |
| --- | --- |
| On the Ile aux Marins, planks leading into the water are for hauling the dory boats up onto the rocky shores. | |
| | |
| --- | --- |
| | Distinctive entry vestibule to a house. Once there were over 600 families on the island, today there are just 25 in the summer. |
| | |
| --- | --- |
| Remains of a collapsed house. | |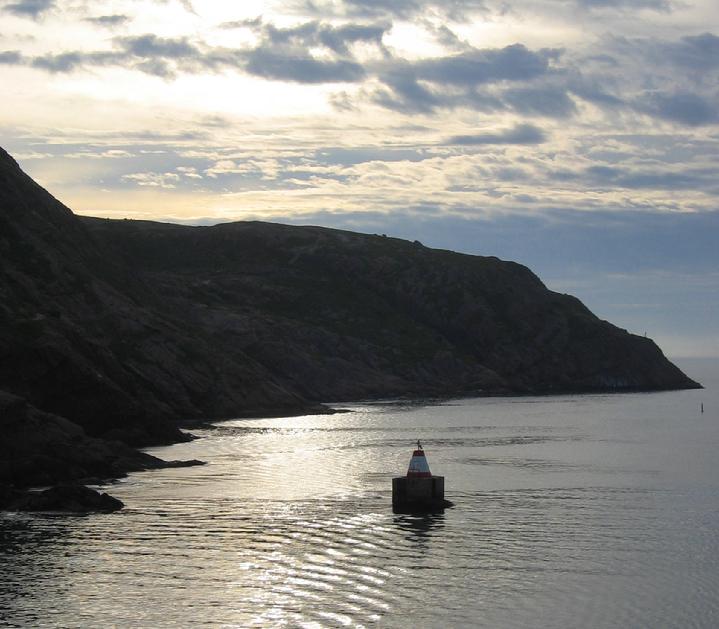 Beautiful morning light as we sail into the harbor of St. John's Newfoundland.
A small fishing village clings to the shoreline at the entry of St. John's harbor.
Slices of rock emerge along Bay Bulls Harbor, Newfoundland.
A bit to slow to fully capture the humpback whales tail.
Bow of the Navigator docked in St. John's.

Captain Fausto Chegia on the bridge.

Regiment of the Signal Hill Tattoo sends us off in grand style.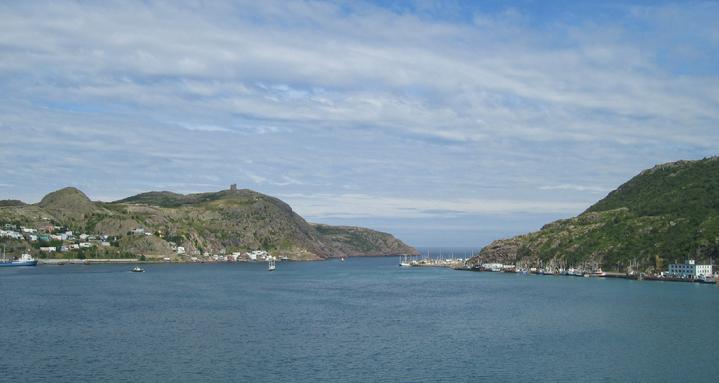 Sailing towards the narrows of St. John's and out to sea.