| | |
| --- | --- |
| Water bungalows in the distance. | The Maldives are extraordinary. Near the capital of Male is the international airport, which is located on it own island -- actually multiple small islands now connected by landfill to support jumbo jets arriving from Asia, the Middle East and Europe. Upon arrival, hotel guests are greeted by individual hotel representatives from the 80+ resorts in the country and escorted to waiting speed boats or seaplanes . . . our arrival was just after 9pm at night so we had a 30-minute boat ride at high speed to a paradise unseen due to the dark of night. |
The Four Seasons at Kuda Huraa (the islandís name) is evidently like many of the other resorts: comprised of a central reception pavilion, multiple bars and restaurants, sporting facilities, a spa (on its own private island reached by boat), and accommodations in beach bungalows and water bungalows -- structures built on stilts, making them appear to float above the turquoise waters below. As with all Four Seasons properties around the globe, the attention to detail and luxury are not to be surpassed. We had the chance to try both types of accommodations. The water bungalows are a not-to-be-missed experience, with a private deck and swim platform for snorkeling directly from the room.
The spa on a separate island is accessed by a small dhoni (boat).
| | |
| --- | --- |
| Chas getting ready to take a scuba plunge for the first time . . . after a class and with an instructor! | |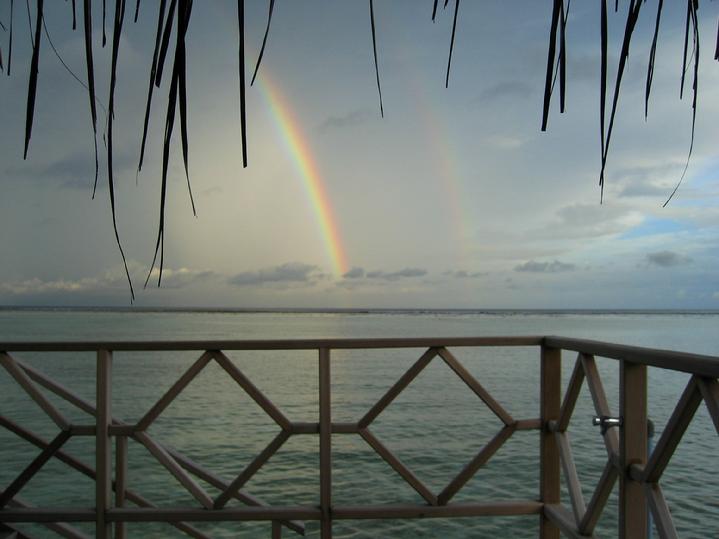 A double rainbow appears to the east.
After only one night in our beach bungalow, a nice rest and a good breakfast, we were packed and out on the dock awaiting the arrival of a seaplane to take us to the grandest of our adventures: five days aboard the Four Seasons Explorer, a brand new catamaran that can hold 22 passengers and 28 crew. The seaplane journey is an absolute MUST if you are in the Maldives as it is the only way to view the extraordinary atoll formations that often barely break the waterís surface and appear unimpressive from sea level.
The Maldives are known for incredible opportunities for scuba and snorkeling. That is precisely why the Four Seasons Explorer was built. Although Four Seasons corporate was evidently skeptical about venturing into the cruise business, as with their hotels, the ship is outfitted to the highest standards and comfort. From one of the smallest galleys Iíve ever seen, food and service was produced to rival any excellent land-based restaurant.
On board a master dive team of instructors and a marine naturalist provided daily instructions and lectures. We not only saw the splendors of the deep in person, but thanks to two teams of underwater videographers, we re-lived those experiences at night after dinner with a video viewing. Many islands visited were uninhabited with pristine beaches . . . devoid of tourists! Best of all, one could join in any of the activities or excursions, or simply enjoy a relaxing time on deck with a good book. There was also a private outdoors massage table but we somehow never found time for the masseuse to work her magic.
Returning to the main resort island, we recapped the beautiful experience weíd just had with our shipmates, now our landmates, and another 100 or so guests we didnít know. After a few days floating over the waters in our bungalow, it was time to go to the end of the dock in the dark of night for our speedboat out of paradise and back to reality.
| | |
| --- | --- |
| Another resort comprising two islands with water bungalows. | |
| | |
| --- | --- |
| Our seaplane docks in open water for . . . | . . . a zodiac transfer to Island Explorer. |
| | |
| --- | --- |
| The pristine little island of Maafusi.. | |
| | |
| --- | --- |
| Travel mate Monica Christopher commanding her own craft. | Another group heads off for snorkling. |
| | |
| --- | --- |
| Natural sculptures found on the beach... | . . . amazing shapes, forms and textures! |
| | |
| --- | --- |
| Chas decked out in a Maldiven sarong. | Surhir puts the finishing touches on our beach banquet with the table carved into the sand. |
________________________________________________________________________________
Tsunami Update on the Maldives - January 2005
For details, a brief email personal account, photos, articles and links... please click to go to More on the Maldives.